Richard St. Barbe Baker – Biographical Sketch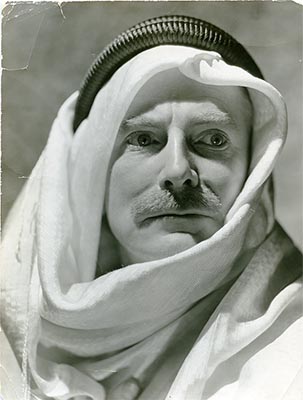 Born 9 October 1889 near Southampton, England, Richard Edward St. Barbe Baker attended Dean Close School, Cheltenham; Emmanuel College, University of Saskatchewan; and Cauis College, Cambridge. During World War I St. Barbe served as a trooper in King Edward's Horse, King's Overseas Dominions Regiment, and later as 2nd Lieutenant in the Royal Field Artillery. After being wounded in France, St. Barbe was invalided out in April 1918.
Following the war he was briefly attached to the British Institute for Social Service, helping to establish the Ministry of Health. After returning to Cambridge, where he completed forestry studies, St. Barbe was appointed Assistant Conservator of Forests in Kenya. There, in 1922, he founded the Men of the Trees, enlisting the help of 9000 voluntary tree planters in an attempt to arrest the invading Sahara. This society, which grew into an international organisation, became the central cause of St. Barbe's life.
Over the years St. Barbe was called upon to advise on forestry matters in many nations: Palestine, where he founded a Men of the Trees branch in 1929; New Zealand, where he advised the First Commissioner of Forests in 1931; the U.S.A., where he presented a plan to President F. D. Roosevelt for reclaiming the prairie Adust bowl" and campaigned for the preservation of California's giant Redwood trees; Africa, where he made two extensive surveys of the Sahara (1952-53 and 1964) and was instrumental in establishing the Sahara Reclamation Program to arrest and reverse the spread of the desert; and India, where he helped set up the country's first tree planting program in 1968.
St. Barbe also was active in promoting international co-operation in forestry and conservation matters. He was involved in preparations for the first World Forestry Congress held in Rome in 1926. Between 1945 and 1956 he convened World Forestry Charter Gatherings for the diplomatic corps in London and in 1950 drafted the New Earth Charter.
In addition to his extensive forestry and conservation activities, St. Barbe wrote and published extensively and has more than thirty books and scores of articles to his credit. While much of his writings are autobiographical in nature, he also wrote about trees, forestry and conservation concerns, spiritual and religious topics, health matters and horses and also produced some material specifically for children.
St Barbe also was deeply involved in radio broadcasting and lecturing. On returning to London from Africa in 1923, he broadcast a message to British Boy Scouts and later gave the initial talk on "Children's Hour" from Marconi House. Besides his work on the BBC in Britain, he was also heard on radio in the USA, New Zealand, Australia, Canada and Africa. In later years he was also featured periodically on television. Throughout his life St. Barbe constantly was in demand as a public lecturer, speaking to numerous audiences in many countries - Britain, New Zealand, the U.S.A., Nigeria, India, Australia and Switzerland. He also gave talks in schools all over Britain and New Zealand.
In addition to forestry/conservation and literary activities, St. Barbe embraced religious and health interests. The product of a religious family, he conducted Sunday services in outlying districts while studying divinity at Emmanuel College, University of Saskatchewan and spent one winter in charge of parishes at Pleasant Hill and Islay, Alberta. In 1924, however, he came into contact with the Baha'i Faith which influenced him strongly for the rest of his life. A life-long vegetarian, St. Barbe always promoted healthful living.
In recognition of his many accomplishments, the University of Saskatchewan conferred an honorary Doctor of Laws on St. Barbe Baker in 1971. In 1977 the Order of the British Empire was bestowed upon him by Queen Elizabeth II.
Richard St. Barbe Baker was married twice. His marriage to Doreen Whitworth in 1946 ended in divorce in 1953. This union produced a daughter, Angela, and a son, Paul. In 1959 St. Barbe married Catriona Burnett. Her home at Mount Cook Station, New Zealand remained his residence until his death in 1982.
St. Barbe led an exceedingly busy life, travelling constantly, giving talks and interviews, promoting forest conservation, planting trees, publicising his books and keeping in touch with a vast network of friends. Active to the end, he died on 9 June 1982 in Saskatoon while on a visit to the University of Saskatchewan.